Join LifeSupply.ca Rewards' program and earn points and use towards future product purchases.
It is 100% FREE.
When you reach:
Points

Reward

1,000

Get $5 (Canadian Dollar) off your purchase

(min. order CA $100)

2,000

Get $5 (Canadian Dollar) off your purchase
Want to earn Rewards points fast?
Create Store Account to Join and get 25 points.
Ways to earn Rewards points
Create a Store Account and get 25 points as a welcome bonus when you create an LifeSupply.ca store account.
Make a Purchase and get 10 points for every $1 (Canadian Dollar) you spend (excluding gift cards, shipping fees & taxes)
Refer a Friend and get 50 points for every new referral that successfully completes a first-time purchase
Already have an account?
Log in
to check your balance or redeem rewards
How to redeem LifeSuply.ca Rewards points
Once you successfully login into your LifeSupply.ca account, you will be able to see the rewards available. You can do this by clicking on the box on the lower right side of the page, like the one shown below.
Once you click on it, you will see the following screen pop-up. If you don't see it, it may be because your browser is blocking it. Please allow your browser to show pop-up windows for LifeSupply.ca. Below is an example of what you should see (please note the coupons available to you will be different than what is depicted in the image below).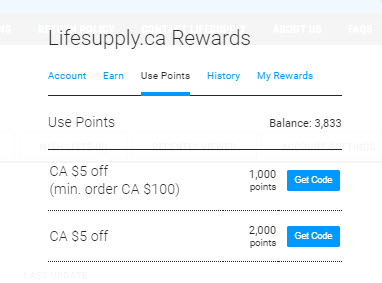 Then click on the appropriate "GET CODE" box associated with the reward that is available to your account.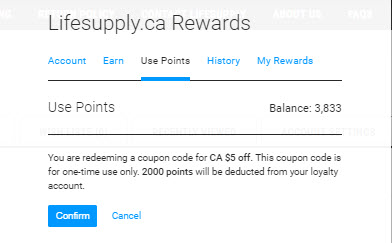 Then click on "CONFIRM" to have the points deducted from your account. A coupon code will be provided that you can use against your order.
Enter that coupon code during checkout.